The Bra Wash Ball of Julimex is the perfect solution for washing your bras.
Bras can easily suffer from tears, dents and creases in a standard washing machine. There is also the common problem of a bras under wiring becoming damaged during a wash. Often damage like this is as a result of your bras being squashed by other items and, on a regular basis, this damage can dramatically reduce the quality of your bra lessening its life expectancy. There is, of course, the option of hand washing but this is an extremely time consuming task. A more simple solution is to invest in the Bra Wash ball which will ensure that your bras are appropriately protected from damage in the washing machine with results comparable to hand washing.
The Bra Wash Ball is a simple and ingenious design that can be easily incorporated with your daily wash. There is room for up to two bras in the ball at one time and the Bra Wash Ball is suitable for all types of bra including padded bras. The ball itself is made from smooth plastic and is lightweight ensuring that it will not cause any damage to your washing machine whilst it is in use.
Using the bra wash ball is extremely simple - you merely place the bra (or bras) in the ball and then secure the ball together using the simple fastening clip. You can then place the loaded ball in the washing machine, along with any other items to wash, and start the wash using with your normal washing machine settings. Your bra will leave the wash perfectly clean without any damage.
The Bra Wash Ball is extremely durable and will not be squashed by other items in the washing machine. This durability will ensure that no damage is caused to your valuable bras. The ball itself is of excellent quality and will last for a long time - it is likely years will pass by before you need to consider purchasing a replacement. With lingerie prices continuing to rise, the Bra Wash ball is a great way to minimise these costs. Purchasing the Bra Wash Ball by Julimex is likely to save you money, as the length of time that your bras can be used will increase and this will result in less-frequent bra replacement costs.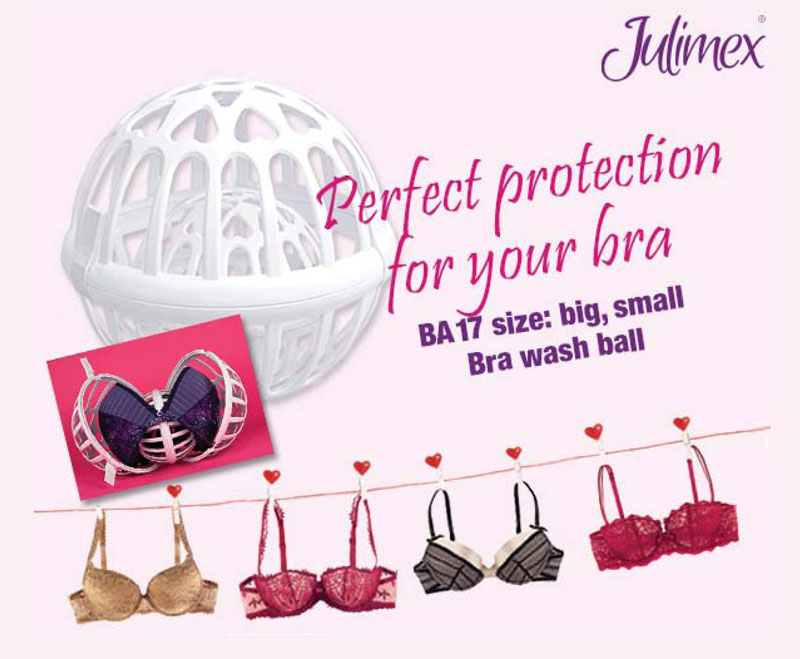 | | |
| --- | --- |
| Compostion: | 100% polypropylene |